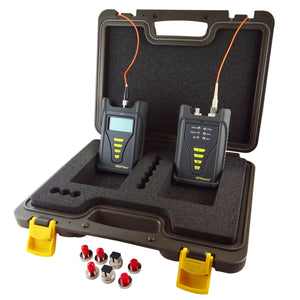 SMARTFiber and OPTISource 850/1300 Kit is an essential and efficient fiber testing equipment kit that includes a Power Meter and Optical Light Source.
The SMARTFiber is a four wavelength (850nm, 1300nm, 1310nm, 1550nm) Fiber Optic Power Meter used for measuring the optical power from fiber optic cabling systems. It includes interchangeable connectors for testing FC, ST, and SC type interface. It utilizes InGaAs photodiode for greater sensitivity and temperature stability. It is suitable for testing single-mode and multimode fiber cables. SMARTFiber is capable of simultaneously receiving modulated signals at 270Hz, 1KHz, 2KHz for identifying and continuity testing of fiber cables.
When using with the OPTISource 850/1300 high-stability LD light source, this kit ensures signal attenuation, certification, fault detection, breaks, and bends of multimode fiber cables. It is an ideal kit designed for network professionals during installation and maintenance to minimizing interruptions and downtime of optical network cabling systems. 
Key Features:
SMARTFiber (Power Meter)
Quad Operating Wavelengths: 

850nm, 1300nm, 1310nm, 1550nm

Interchangeable Connectors: FC, ST, SC, and 2.5mm (optional) type interface for maximum flexibility

Sensor Type: InGaAs for greater sensitivity and stability

Dynamic Range: +3 to –60dBm

Accuracy: ±0.15dB±1nW@1300nm /1310nm /1550nm; ±0.25dB±1nW@850nm

2 Unit Measurement: dBm & Watt

Automatic wavelength detection (when used with Hobbes OPTISource
as laser light source)
Reduce downtime and interruptions

Battery indicator & auto power-off function

Rugged, Compact, and Portable Design
OPTISource 850/1300 (Optical Light Source)
Wavelength: 

850nm/1300nm

High-Stability LD Light Source
Interchangeable Connector: FC, SC, and ST Type Interface
3 Output Modes: CW, MOD, Auto–Identify
CW and 270Hz, 1kHz, 2kHz modulated signals
Auto "Power Off"
Part# 257836DK1 SMARTFiber & OPTISource 850/1300 Kit - LD Light Source 850nm/1300nm Wavelength