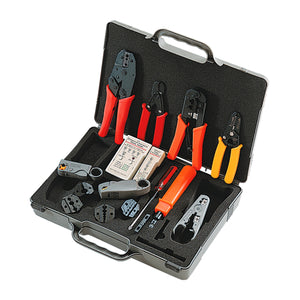 Creating, maintaining, and troubleshooting a network involves the use of many components that requires a variety of tools. When it comes to networking issues, having the correct tools can simplify network tasks, saving time and money. So, we compiled all essential tools in a single kit and developed Hobbes Network Installation Kit.

Hobbes Network Installation Kit contains all the necessary tools that will facilitate in managing network infrastructures and increase efficiency. It includes the appropriate tools for constructing, terminating, and testing network cables. The Enhanced Cable Tester checks the continuity of cables to determine cable connectivity issues. It is designed for a wide range of cabling tasks to quickly troubleshoot and identify faults.

Having the right tools in place is one of the most crucial aspects when dealing with network systems and Hobbes Network Installation Kit provides the solution in creating, maintaining, and troubleshooting the systems.
Features:
Enhanced Network Cable Tester and Remote Terminator:

Test and verify cable continuity: Open, Short, Miss-Wire, and Polarization
Test pin configuration with simple indicators to determine cable breaks, wrong cable pin connections on your Network or Internet Connections
Remote terminator (test cables on the wall plate, patch panels, behind walls or distant end)
Part# 251452-R
Kit Contents:

Enhanced Network Cable Tester and Remote Terminator
Cable Crimper: 

8p8c:RJ-45, 6p6c:RJ-12, 6p4c:RJ-11

Interchangeable Die Sets:
Die Sets:

3C RG–58, 59, 62.6
3G RG–58, 59, 62, 174 Fiber Optic
3J RG–174, 179 Belden 8218 Fiber Optic
3K RG–8, 11, 174, 179, 213

6.5" Cable Cutter
Cable Stripper with Cutter
Coaxial Cable Stripper
Punch Down Tool:
Coaxial Stripper
Screwdriver
Durable carrying/storage case
Part# HT-4015 Network Installation Kit